[ad_1]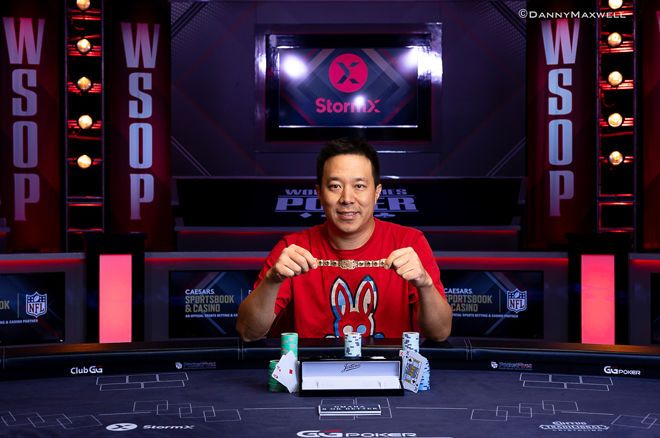 It was no sprint to the finish line for the latest gold bracelet winner of the 2022 WSOP in its new home at Bally's and Paris Las Vegas, as Andrew Yeh had to wait until the early morning hours in the Bally's Event Center before he lifted live poker's most exclusive prize into the PokerGO live stream cameras.
Out of a field of 209 entrants who ponied up the $10,000 buy-in in the Event #44: $10,000 H.O.R.S.E. Championship, mixed cash game player Yeh defeated Craig Chait in heads-up as the duo divided the biggest portion of the $1,948,925 prize pool. Yeh became part of live poker's elite company and took home the top prize of $487,129 while Chait had to settle for a consolation prize of $301,068.
"I feel like I'm definitely capable of winning, but in these tournaments, especially $10Ks with all of the good players, it's really tough to navigate a field," Yeh admitted in the winner interview. "So to be able to do that and make it here again from last year and actually do this is pretty surreal."
2022 World Series of Poker Hub
Bookmark this page! All you need to know about the 2022 WSOP is here.
The fact that Yeh and Chait ended up in the heads-up encounter seemed unlikely at times with Yeh being down to two big bets on the last five tables. Chait had a single chip more than the starting stack of 60,000 on the three-table redraw and he joked during the unofficial final table in the previous night that his victory as an "amateur" might spark a new boom for mixed games on the live poker circuit.
Throughout the day, all contenders were jockeying for their positions but Yeh remained near the top of the leaderboard and even pulled into a commanding lead with three players remaining. However, it wasn't a smooth ride thereafter as the lead changed numerous times.
Three of the final five players already had one WSOP gold bracelet to their name but John Racener, Bryce Yockey, and Philip Long all missed out on the opportunity to double their tally on what turned out to be a long night at the poker tables. Yockey even managed to finish in fourth place in this very event in back-to-back years.
Final Table Result Event #44: $10,000 H.O.R.S.E. Championship
| Place | Winner | Country | Prize (in USD) |
| --- | --- | --- | --- |
| 1 | Andrew Yeh | United States | $487,129 |
| 2 | Craig Chait | United States | $301,068 |
| 3 | Philip Long | United Kingdom | $209,424 |
| 4 | Bryce Yockey | United States | $148,896 |
| 5 | John Racener | United States | $108,253 |
| 6 | Paul Sokoloff | United Kingdom | $80,523 |
| 7 | Mike Gorodinsky | United States | $61,314 |
| 8 | Eric Wasserson | United States | $47,819 |
It was redemption for Yeh as he came agonisingly close to the maiden gold bracelet during the 2021 WSOP at the Rio All-Site Hotel & Casino as he finished third place for $143,988 in the $10,000 Omaha Hi-Lo Championship. Yeh's close call back then came up short when "Ari [Engel] kicked my ass", which the winner admitted with a smile on the face. The four-card split pot variant is definitely the preferred one in the rotation and he quite fittingly finished it despite getting it in with aces and kings.
The atmosphere during the late stages on the main feature table was very jovial which was also helped by the fact that Yeh and Chait "had many friends in common". Both contenders made sure that their rails were staying hydrated while focusing on their task ahead of the final hurdle.
With the nature of the tournament and the betting limits in place came many swings, which Yeh was already accustomed to. "Up thirty big bets, down forty big bets. I am so used to it that it doesn't really bother me to be honest. I play a lot of Omaha Hi-Lo tournaments and throughout two-thirds of these tournaments the average is between seven and five."
Where most other poker players would panic, Yeh had already seen it all and that experience in split pot games contributed to his victory. The short stack perseverance is "definitely a tournament thing" and also goes the other way around as a big lead can suddenly change. "We saw in heads-up play with Dan Zack and Dustin. It was going back and forth for 90% of the chips easily, it can happen. You gotta stick with it and be careful," Yeh added.
Out of the five different variants, there is certainly one preferred variant that the eventual champion admitted in a heartbeat. "Omaha Hi-Lo, by far, it's not even close.". With Chait's stack reduced to fumes, several all-in showdowns in a row emerged and the final hand of Yeh had only a shot at the high portion with aces and kings. "But you actually need a qualifier, don't forget that guys," he joked with a big smile on his face.
Yeh will be back in action very soon as he promised to jump right back into the next possible event on the following day. That may very well be Event #52: $2,500 Nine Game Mix 6-Handed, which features a total of nine different variants instead of five.
Action of the Final Day
Right out of the gates it was apparent that it would be a path filled with obstacles for either of the five contestants as they saddled up for a thrilling conclusion. It took nearly two hours for the first all-in showdown and Yeh was the one to pace further ahead in the opening stages. Racener became the far shortest stack and ultimately saw his fate sealed by Yockey, who spiked a set of deuces in a duel of WSOP bracelet winners.
While Yockey dealt the final blow, his stack went on a wild ride during the final day and the groundwork to his demise was once more caused by Yeh. Ultimately, the chance at winning a second bracelet vanished when his queen-ten in a Limit Hold'em hand found no help against an ace held by Yeh and Chait.
The three-handed action seemed to be destined for a two-horse race when the UK's Long lost several pots in quick succession and became the lowest stack by a significant margin. However, the Brit roared back to the front before the neck-on-neck race propelled Yeh back into the driver's seat. It was also Yeh who finished the job in a Seven Card Stud hand and he entered the duel against Chait with a near three-to-one lead.
Nearly three and a half hours of intense heads-up action culminated in a quick rush to a runaway lead down the stretch for Yeh, who then closed it out in his preferred variant of Omaha Hi-Lo.
History of the $10,000 H.O.R.S.E. Championship at the WSOP
For the 11th time, the WSOP featured a H.O.R.S.E. with a buy-in of $10,000 and the 209 entry strong field in the current edition was the far biggest in almost a decade. Only the first two editions in 2010 and 2011 respectively drew a bigger attendance and this promises a big turnout for the upcoming $50,000 Poker Players Championship. Ian Gordon and Fabrice Soulier were crowned champions back then and other former winners included David "Bakes" Baker, Chris Wallace, Andrew Barber, Jason Mercier, David Bach, John Hennigan, and Greg Mueller.
Between 2006 and 2009, live poker's pinnacle mixed game event of the year featured the five-game rotation before further variants were added to the mix. In 2003, the inaugural H.O.R.S.E. tournament at the WSOP was won by none other than Doyle Brunson.
| Year | Entries | Prize Pool | Winner | Runner-Up | Top Prize |
| --- | --- | --- | --- | --- | --- |
| 2022 | 209 | $1,948,925 | Andrew Yeh | Craig Chait | $487,129 |
| 2021 | 149 | $1,389,425 | Kevin Gerhart | Marco Johnson | $361,124 |
| 2019 | 172 | $1,616,800 | Greg Mueller | Daniel Ospina | $425,347 |
| 2018 | 166 | $1,560,400 | John Hennigan | David "Bakes" Baker | $414,692 |
| 2017 | 150 | $1,410,000 | David Bach | Eric Rodawig | $383,208 |
| 2016 | 171 | $1,607,400 | Jason Mercier | James Obst | $422,874 |
| 2015 | 204 | $1,917,000 | Andrew Barber | Viacheslav Zhukov | $517,766 |
| 2014 | 200 | $1,880,000 | Chris Wallace | Randy Ohel | $507,614 |
| 2012 | 178 | $1,673,200 | David "Bakes" Baker | John Monnette | $451,779 |
| 2011 | 240 | $2,256,000 | Fabrice Soulier | Shawn Buchanan | $609,130 |
| 2010 | 241 | $2,265,400 | Ian Gordon | Richard Ashby | $611,666 |
This concludes the PokerNews live reporting for this WSOP gold bracelet event as the halfway point of the 2022 WSOP at Bally's and Paris Las Vegas has been reached.
[ad_2]

Source link