[ad_1]

Key Takeaways
KSM, the native token of the Kusama network, surged 13.5% Monday.
1.1 million KSM tokens locked up from the network's first five parachain auctions have been returned to holders.
Despite the unlock increasing the KSM token supply by approximately 12%, it appears demand has also swelled.
Despite more tokens entering circulation, the price of KSM has increased by over 13%.
Kusama Surges on Bullish Unlock
It appears that investors have taken the recent Kusama token unlock as an opportunity to buy more. 
KSM, the native token of the Kusama network, jumped 13.5% Monday after 1.1 million tokens locked up from the network's first five crowdloans were released back to participants. Kusama is currently trading for $83.11, one of only a handful of tokens to register gains today as the rest of the market fell.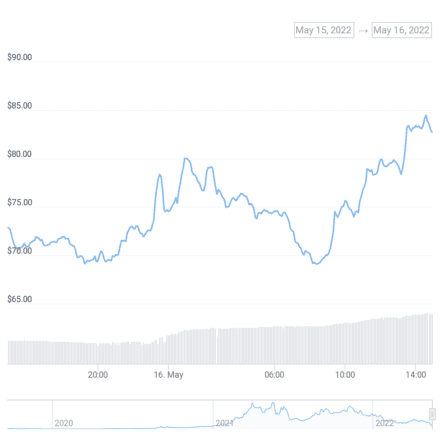 Kusama is part of the broader Polkadot ecosystem and acts as a canary network on which projects can test their applications in a live environment. In June 2021, Kusama launched its first parachain auctions, giving KSM holders the ability to lend out their tokens to help bootstrap promising projects. 
Projects that received the most KSM contributions gained access to one of the Kusama network's parachain slots for a one-year period. Holders who contributed would receive their KSM tokens back at the end of the lease, along with additional native tokens distributed weekly throughout the lease period. Karura was the first project to win a parachain slot on Jun. 22, followed by Moonriver, Shiden, Khala, and Bitfrost Finance. 
Almost a year later, the 1.1 million KSM tokens that holders contributed to the first five auctions have been unlocked and returned to participants. While some onlookers had predicted that the influx of KSM tokens would add selling pressure and drive down the token's price, the opposite has happened. 
Additionally, the native tokens of several parachain winners have also increased in value, presumably due to emissions given out to crowdloan contributors ending. Moonriver's MOVR token is up 13.6% on the day, while Karura's KAR token has rallied 7.4%.
With the conclusion of the first round of Kusama parachain auctions, the Polkadot ecosystem has demonstrated its crowdloan model to be effective in successfully bootstrapping projects. Several original parachain winners such as Moonriver and Shiden have already secured new parachain leases through direct purchase or winning a second auction. Whether Polkadot will receive a similar boost when the DOT tokens contributed to its first parachain auctions unlock in October 2023 remains to be seen. 
Disclosure: At the time of writing this piece, the author owned DOT and several other cryptocurrencies. 


[ad_2]

Source link