[ad_1]

Key Takeaways
STEPN has announced plans to cut access to users playing from mainland China.
Starting Jul. 15, users playing from mainland Chinese IP addresses will have their GPS services cut, stopping them from playing.
STEPN's GMT token has fallen 20% since the announcement.
STEPN's GMT and GST tokens have plummeted following an announcement that the app will stop serving players from mainland China. 
STEPN to Restrict Chinese Players
STEPN is cutting its services for players in mainland China, and the move has had a major impact on the app's tokens. 
The move-to-earn lifestyle app announced Thursday that it would cut access to users playing from mainland China to abide by local regulations. A post on the official STEPN Twitter account translated from Mandarin read:
"In order to actively respond to relevant regulatory policies, STEPN will conduct an inventory of software users. If users in mainland China are found, STEPN will stop providing GPS to their accounts at 24:00 on July 15, 2022 (UTC+8) according to the terms of use."
Follow-up posts encouraged users in mainland China to "make decisions about the handling of in-app assets," in anticipation of the coming ban. The posts also affirmed that STEPN had not engaged in any business in mainland China since launching nor provided download channels to Chinese users. The Twitter posts also maintained that STEPN has always attached great importance to compliance obligations and abided by the relevant requirements of local regulatory agencies. More than 10 hours after the original Mandarin post, an English translation informing users of the upcoming change was also posted in STEPN's Discord server.
It is still unclear why STEPN has decided to limit access to users in mainland China. Many crypto-related activities have been prohibited in the region since authorities cracked down on the industry in September 2021, leading several crypto exchanges to stop offering their services to Chinese users. However, a STEPN representative called Jason hinted at a possible reason in a Twitter Space discussion Friday morning. Because part of the company's technical team is based in China, they are "implicated" by Chinese crypto regulations by working for the app, he explained. 
STEPN's Tokens Tumble
STEPN's GMT and GST tokens have been hard hit by the news of a mainland China ban. Since the announcement, GMT, the game's governance token, has fallen more than 20%, while GST, the main token players earn through playing the game, has dropped 15% on Solana and 24% on BNB chain. Both GMT and GST are now more than 75% down from their all-time highs recorded on Apr. 28.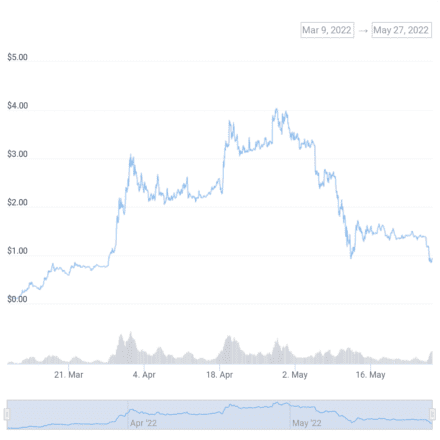 The price of STEPN's NFT sneakers, which are required to play the game, has also sunk 21.8% from a floor price of around 13.9 SOL to 10.9 SOL at press time. 
STEPN is a multi-chain crypto app that lets users earn valuable tokens by running, walking, or jogging outside. The game soared in popularity through March and April and recently secured a partnership with sportswear maker ASICS to launch a series of collaboration NFT sneakers. 
While many early STEPN adopters have made profits through the app, skeptics have begun to question whether the game's move-to-earn model is sustainable. STEPN's token economy is often compared to that of play-to-earn progenitor Axie Infinity, which famously experienced a boom-and-bust cycle after the profits from playing the game fell late last year. 
Disclosure: At the time of writing this piece, the author owned SOL and several other cryptocurrencies. 


[ad_2]

Source link