[ad_1]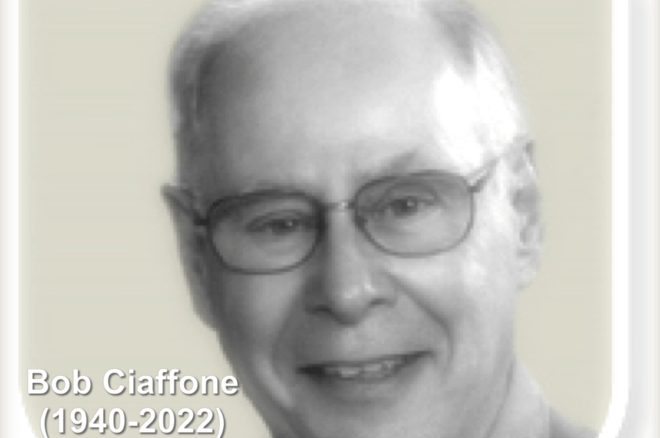 Last week, the poker world received the sad news that Bob Ciaffone, an accomplished poker author and longtime Card Player Magazine columnist, passed away at the age of 81.
Born in Brooklyn, New York on December 10, 1940, Ciaffone learned to play poker decades earlier at the age of nine after being taught by his mother. A year later, their family relocated to Sagniaw, Michigan, and by the time he was 15 he was excelling at several different kinds of games.
He would attend the University of Notre Dame but despite being the highest-ranked student on entrance exams, he eventually dropped out after spending too much time playing pool.
"When you are handy with a cuestick, the money comes easy, and you have ample opportunity to get involved with other forms of gambling," Ciaffone once said.
Ciaffone would later attend Michigan State where he won a number of college pool championships. According to a PokerNews profile on Ciaffone, in 1964 he was selected to represent the Saginaw area to play an exhibition match against one of pool's all-time best players, Willie Mosconi. Bob ran the first rack, but Mosconi came back to beat him. In 1965, Bob took second place in the 1965 Lansing City Championship.
In addition to his poker and pool accomplishments, Ciaffone excelled at bridge, backgammon, and chess. The U.S. Chess Federation awarded him the title of Life Master (he also got the same title from the American Contract Bridge League), and he also previously served as the president of the Michigan Chess Association.
In 1969, Ciaffone became the chess State Champion of Michigan and went on to play against World Champions Bobby Fischer and Mikhail Tal.
As an enthusiastic bridge club organizer and educator, Ciaffone rightfully earned the nickname "The Coach." He owned a bridge club, "Cavendish North Bridge and Backgammon Club" in Southfield, Michigan from 1975 to 1980.
He was so respected in the poker industry that the New Jersey Casino Control Commission used him to help establish rules when they opened their poker rooms, something Florida officials did as well years later.
Ciaffone authored five poker books including Robert's Rules of Poker, Middle Limit Poker, Pot-Limit and No-Limit Poker, Omaha Poker: The Action, and Improve Your Poker.

As a player, Ciaffone had career earnings of $347,106 according to The Hendon Mob. His most notable performance and biggest cash of $125,000 came when he finished third in the 1987 World Series of Poker (WSOP) Main Event to runner-up Frank Henderson and champ Johnny Chan.
"Ciaffone was the most dominant and aggressive player at the final table, and it's a surprise, because Chan is usually a very aggressive player," Poker Hall of Famer and 1983 WSOP champ Tom McEvoy said.
"Ciaffone was the most dominant and aggressive player at the final table, and it's a surprise, because Chan is usually a very aggressive player."
While moved to Las Vegas in 1978, Ciaffone moved back home to Saginaw, Michigan in 1996 to care for his aging parents. In 1992, Ciaffone fell in love with Nepal and together with Garland Walters and Blackie Blackburn started a poker game at a casino in Katmandu.
In 2008, Ciaffone was elected as one of the five delegates representing the fourth district of Michigan at that year's Democratic Nation Convention. He is also responsible for the creation of Fair Laws on Poker (FLOP), which offered guidelines for states looking to govern poker.
In his book Middle Limit Hold'em Poker, which he co-authored with Jim Brier, Ciaffone once wrote:
"I dedicate my effort in this book to the person on our planet who has influenced me the most. This is my father, Alfred J. Ciaffone, who passed away on July 21, 2003. He taught me nothing about poker or any of the other games I play, but he taught me what matters above all: how to treat my fellow man."
It was a lesson well learned as Ciaffone was well-respected by the poker community, many of who offered their condolences on social media.
"Sad to hear. I liked Bob very much. He was and is a credit to the poker community," said Blair Rodman.
Brian Michael Paul wrote: "Today, if you play with me, you will face some massively large sizings in honor of one of the most prolific authors of old school poker thought, Bob Ciaffone."
Michael Bujanowski perhaps said it best when he shared: "May the rules you defined and set in ink, last forever. RIP, Bob."
Ciaffone's passing was first reported by his friend Ben Finegold, with whom he co-authored a chess book.
Read More About Bob Ciaffone Here.
Executive Editor US, PokerNews Podcast co-host & 2013 WSOP Bracelet Winner.
[ad_2]

Source link