[ad_1]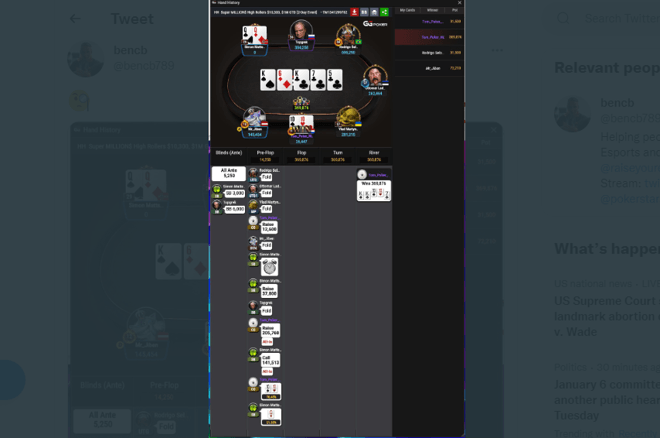 A player winning a pot with the worst hand isn't uncommon in poker, but it typically only happens via a bluff. That wasn't the case in one hand on GGPoker at showdown in which the best hand mysteriously lost, an obvious costly glitch.
The hand in question occurred during a $10,300 buy-in Super High Roller $1 million guarantee tournament, a major event in the GGPoker Super MILLION$ series.
What Happened?
Online poker pro Benjamin "bencb789" Rolle shared a screenshot of the hand history on Twitter.
With the blinds at 3,000/6,000, Tom "Tom_Poker_NL" Talboom had raised it up to 12,600 with
from the cutoff. Simon Mattsson, who was in the big blind with
, moved all in for 205,760. His opponent called for the 141,513 he had left.
The board ran out
, sending the pot to its rightful winner, Mattsson. Well, actually that part isn't true. According to the rules of no-limit Texas hold'em, queens are superior to tens. The pot, however, was shipped in the direction of "Tom_Poker_NL."
Dozens of players commented on Rolle's Twitter post, most of whom were confused as to how that could happen. Responses such as "WTF" were prevalent.
"Whoa, isn't this kinda a big fcking deal for GG and online poker reputations in general? Is this being talked about more, I'd love to see what others are saying," @Dracko_307 responded.
GGPoker Responds
Shortly after it was made aware that the pot was sent to the wrong player, GGPoker took action. The online poker giant shared an explanation as to what happened in a Reddit post.
"There was a conditional bug that made the system recognize the game as Flip&Go, and discard one card. We have fixed this bug, and refunded all such cases," GGPoker wrote in the Reddit post.
Mattsson also confirmed he'd been refunded his money due to the glitch.
[ad_2]

Source link