[ad_1]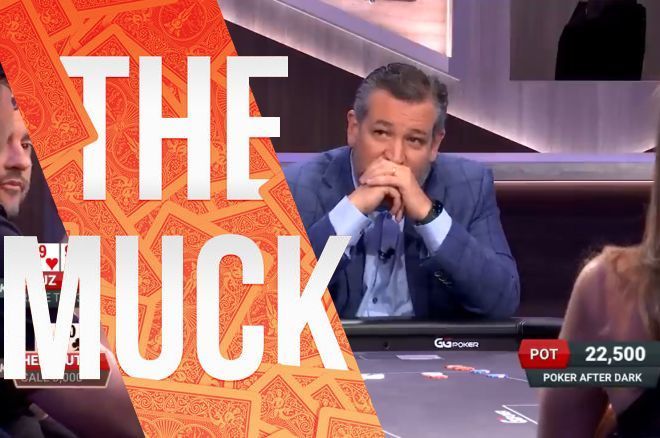 Texas Senator Ted Cruz appeared on the latest Season 13 episode of Poker After Dark, and like anything related to politics, it sparked a heated debate on both sides of the aisle.
Cruz, a Republican and 2016 presidential candidate who lost his party's nomination to Donald Trump, represents the Lone Star State where a recent mass shooting at an elementary school took place. Nineteen children and two adults were killed in the incident. So, the optics when he shared a clip on Twitter from the Poker After Dark session days after the shooting weren't great, but the show was actually filmed months prior.
In this edition of The Muck, we take a look at the reaction to the controversial poker appearance. As you may have guessed, one side of the aisle had no problem with Senator Cruz playing cards, and the other flipped a lid.
Senator Ted Cruz Plays Some Poker
From inside the PokerGO Studio in Las Vegas, the Texas politician appeared on Poker After Dark Season 13, Episode 13, a $5,000 no-limit hold'em sit n' go that featured an interesting cast of characters, including poker legend Phil Hellmuth, sports and political journalist Clay Travis, chess streamer Alexandra Botez, investment YouTuber Graham Stephan, YouTube sensation MrBeast, and poker icon Doyle Brunson.
The players were competing for charity, with the top three earning money for their preselected charity. Cruz shared one interesting hand he played against Hellmuth on Twitter.
In the hand, Hellmuth raised to 3,000 with
and was three-bet to 13,500 from the congressman's
. The 16-time WSOP bracelet winner attempted to get a read on the Conservative politician.
"So is seven-two a good hand?" Cruz joked as the action returned to the Poker Hall of Famer.
"So he's talking, so he's definitely very strong here. I'm supposed to say, 'do you know who I am,'" Hellmuth responded with a laugh.
The "Poker Brat" eventually folded his hand, but Cruz didn't show his cards, likely not wanting to give away any information to a legendary poker player.
Appearance on Poker After Dark Criticized by Democrats
Senator Cruz is a staunch supporter of the US Constitution's Second Amendment, the right to keep and bear arms, and he has a friendly relationship with the National Rifle Association (NRA). Following the Uvalde, Texas school shooting last week, many of his political opponents have called for gun control, some even suggesting the United States ban guns altogether.
Given that Cruz is an ally of the NRA, many Democrats and gun control proponents ripped on the Senator for sharing a poker video just days after the largest school shooting in his state's history. Even former NBA basketball star Rex Chapman chimed in.
Former poker Jon Aguiar referred to the Poker After Dark appearance as a "new low for the poker world."
"Everyone should've refused to play with him. Taking his money won't send a message," Luke Ellul (@LukeEllul1) responded.
Republicans Defend Conservative Politician
Pretty much anyone bashing Cruz' appearance on Poker After Dark was either Democrat-leaning or gun control advocates, from what we could tell. On the flip side, nearly everyone supportive of the Senator's televised poker debut resides on the other side of the political aisle. And that shouldn't come as a surprise in the current polarized American political climate.
"Most of the tables I've played at (low stakes) probably love this dude. Feel like if you did a poll of the poker community it would be extremely one sided and to the Right," Sergio Patterson (@sergiopatters10) wrote.
"Sooo many terrible human beings all over the place. Probably worse ones living close to you. But you want to diss on Cruz playing poker. Hahahaha," Cody Skiby (@CodySkiby) said in response to Aguiar's tweet.
When the episode ended, Cruz had built a big stack thanks to winning a sizable pot against Brunson with top pair against pocket jacks. You can catch the finale of the session next week on the GGPoker YouTube channel.


[ad_2]

Source link