[ad_1]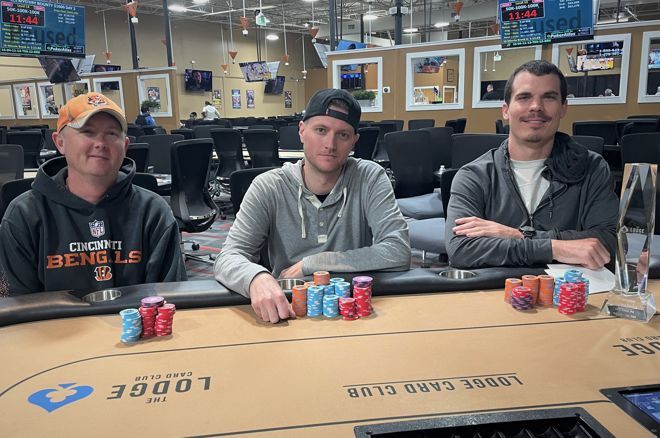 The final day of Event #8: $1,650 Mystery Bounty $1 Million Guaranteed has now come to an end here at The Lodge Poker Club in Round Rock, Texas, after 14 hours of exciting poker. There was a total of 659 entries and Day 2 saw just 85 left to duke it out. When the early morning hit, only three were left and a deal was struck.
Zachary Hambrice, Christopher Adams, and Andrew Robinson brought in the ICM calculator after a long day of poker, and the trio seemed more than happy to take their prize and hit the hay. Hambrice had the chip lead, and he took home $96,408 and the trophy. Finishing just below the champ was Adams, who gained $94,999 in the deal. Robinson was the shortest of the three but he still added a respectable $83,288 to his roll.
Brian Lee was one of the leaders to begin the day and he found himself in an optimal position when only five were left to bounce back into it. The chips were in and the cards were up as Lee, Adams, and Kenneth Neyerlin all awaited their fate. Lee turned the nut-straight and needed to avoid the board pairing as Adams had a set of dimes. Neyerlin was drawing dead with two pair but could jump up the ladder if Adams scooped. An unlikely six fell on the river to give Adams a boat, turning a potential triple-up pot into an exit in fifth place instead for Lee.
Final Table Results
| | | | |
| --- | --- | --- | --- |
| Place | Player | Hometown | Prize |
| 1 | Zachary Hambrice | San Antonio, TX | $96,408* |
| 2 | Christopher Adams | Thousand Oaks, CA | $94,999* |
| 3 | Andrew Robinson | Georgetown, TX | $83,288* |
| 4 | Kenneth Neyerlin | Arvada, CO | $45,975 |
| 5 | Brian Lee | Lubbock, TX | $34,401 |
| 6 | Richard Chevalier | San Antonio, TX | $25,720 |
| 7 | Jason Aden | Sheridan, OR | $19,161 |
| 8 | Matthew Cosentino | Austin, TX | $14,275 |
| 9 | Venkat Chivukula | Fulshear, TX | $10,932 |
*denotes deal made at final table
Final Day Action
The event pulled in 659 entries during the Day 1 flights, which came up a bit shy of the guarantee, but no one complained as the players indulged in an overlay. Just 85 were left standing on Day 2 and bounties were then in play. The first break of the evening had not even been reached before Thierry Quintin pulled the fortuitous $100,000 bounty that no one expected.
The field quickly fell to the final three tables and it was Neyerlin sitting on top at the time. An onslaught of eliminations dropped it down to just 12 and Neyerlin was in complete control having just busted Sande Slutsky with a boat. Benjamin Perez and Jason Gooch each followed in Slutsky's footsteps, leaving just ten.
A big hand between Jamey Hendrickson and Hambrice set the stage for the final table. Hendrickson arguably played the most solid poker out of anyone left in the final ten but it took only one hand to send him on his way. He opened with a pair of queens, Hambrice called and the jack-high flop came with a nine. The chips went in and the final table was then set.
Venkat Chivukula lost a race with seven versus Richard Chevalier who had the dead man's hand. Chevalier ended with a flush, ending the night for Chivukula. Matthew Cosentino was next on the chopping block, losing ace-queen against the cowboys of Neyerlin for an 8th place finish.
check out the latest updates at the lodge championships live reporting hub
Adams then jumped into the action, dropping Jason Aden who had a weaker ace that lead him right to the payout desk. Lee then took a bounty when Chevalier pushed ace-queen and Lee called with big slick. It took a little over an hour before seeing another hit zero but the wait was worth it for a few. Lee shoved on a turn card that gave him the nuts, Adams popped it for more with a set, and Neyerlin put his chips in with two pair. Adams binked a six to pair the board, dropping both Neyerlin and Lee in what was the last hand of the night.
That wraps it up for the PokerNews live coverage of this event, but tune in throughout the series for all of the action from The Lodge Card Club in Round Rock, Texas.
[ad_2]

Source link