[ad_1]

Chance Kornuth earned his first World Poker Tour title Thursday night in Las Vegas, good for $486,600 in the $3,800 buy-in Main Event at Choctaw Casino in Durant, Oklahoma. By doing so, he made life a bit easier for the family of a poker dealer battling cancer.
The Chip Leader Coaching founder, a three-time World Series of Poker bracelet winner, left Choctaw last week second in chips heading to the final table. When the tournament moved to the desert, more specifically the HyperX Esports Arena at Luxor, he was playing for more than a shot at poker glory.
Kornuth Offers a Piece of his Action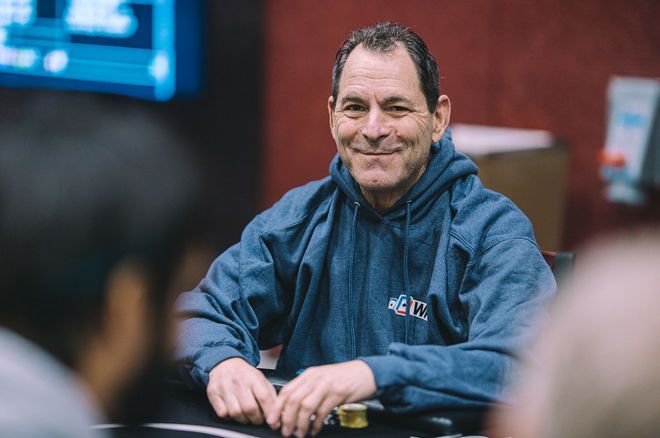 Randy Gordon, a beloved dealer at Wynn in Las Vegas who often travels the tournament circuit around the country for work and is fighting bone marrow cancer, arrived at Choctaw hired to deal the series. On Day 1a (May 13), he sat in the box and pitched cards to the hundreds of poker players all hoping to become the next WPT champion.
The following day, after winning a Twitter contest to receive a free buy-in into the tournament, he traded in his work uniform to join the field on the other side of the table. But things didn't go his way and he was eliminated shortly after the dinner break long before the money bubble burst.
Kornuth, the player who busted Gordon on Day 1b, sent the poker dealer a text shortly afterwards informing him that he would give him a 1% freeroll, meaning if Kornuth were to go on to win the tournament, Gordon stood to receive approximately $4,800 even though he didn't cash.
Upping the Ante
Gordon, who resides in Henderson, Nevada with his wife, is battling cancer and must quit his job at the end of September to travel to Houston to begin some intensive treatment over the following few months. The cost of leaving his job, traveling to a new city, and covering medical expenses isn't going to be cheap. Thus, Kornuth's victory was certainly helpful, but it turned out to be just the start.
"Our gratitude (to Kornuth and his friend) is immense. Now I can turn my attention to the life-challenging battle that lies ahead."
A few days before the May 26 final table in Las Vegas, an anonymous friend of Kornuth's informed him he'd like to pledge an extra 4% freeroll for the long-time poker dealer. So, instead of the generous approximate $4,800 payout headed Gordon's way, he'll now take home just over $24,000, or about 5% of the first-place money.
"My wife, and future caretaker, will move to Houston (in October) for a minimum of 4-6 months (if things go well) to have a bone marrow transplant," Gordon told PokerNews. "This money will be used to cover living expenses, travel back and forth from Las Vegas, and cover a hefty deductible that would have left us stressed out of our minds."
"Our gratitude (to Kornuth and his friend) is immense. Now I can turn my attention to the life-challenging battle that lies ahead."
Gordon was in attendance at the Esports Arena to cheer on and celebrate with Kornuth as he took down his first WPT title and the $486,000 payday that came with it.
Check out the PokerNews WPT Hub Here.
*Images courtesy of WPT/Hayley Hochstetler
[ad_2]

Source link