[ad_1]

The total cryptocurrency market cap has fallen below $1 trillion for the first time since January 2021. 
Crypto in Crisis
Crypto investors appear to be rushing for the exit after more macroeconomic turbulence.
The crypto market has extended losses following Friday's higher-than-expected consumer price index inflation. Over the weekend, Bitcoin dropped by 17.4%, registering a new yearly low of around $23,911. Ethereum, the second-largest cryptocurrency, fared worse, plummeting 27.3% in the same period.
Despite the Federal Reserve raising interest rates by a total of 75 basis points in 2022, inflation has shown little sign of letting up, making more aggressive rate hikes more likely going forward. By raising rates, the Fed hopes to bring inflation back down to an acceptable level by slowing economic growth. However, doing so negatively impacts risk-on assets such as equities and cryptocurrencies. 
Since the Fed first committed to raising rates earlier this year, the crypto market has shed over $800 billion in value. In March, the sector's total market cap hovered around $1.8 trillion; now, data from CoinMarketCap shows that the asset class' value has dipped below $1 trillion for the first time since January 2021.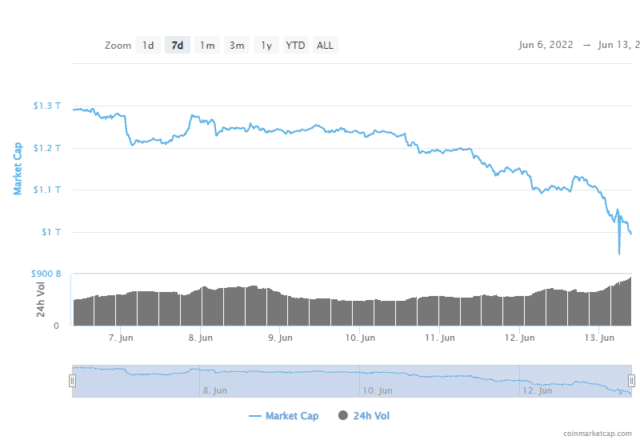 Bitcoin has historically held up better than other crypto assets during bearish market conditions, with this time being no different. Over the past month, Bitcoin's market dominance has risen over 6%, indicating that investors are fleeing smaller and more volatile cryptocurrencies in favor of Bitcoin.
Elsewhere, the tech stock-heavy NASDAQ 100 has also been hit hard, with the index's futures contracts sliding 3.1% in early hours trading. In recent months, crypto assets have expressed a high correlation with traditional equities. Ongoing weakness in the NASDAQ 100 and S&P 500 will likely add additional pressure on the already-ailing crypto market. 
While macroeconomic factors continue to weigh on the crypto market, sector-specific issues are also fueling bearish sentiment. Earlier today, the crypto lending platform Celsius announced it had frozen customer withdrawals, swaps, and transfers due to "extreme market conditions." The development follows weeks of rumors that the crypto lender could face insolvency issues due to the decline in the crypto market.
Disclosure: At the time of writing this piece, the author owned ETH and several other cryptocurrencies. 
[ad_2]

Source link