[ad_1]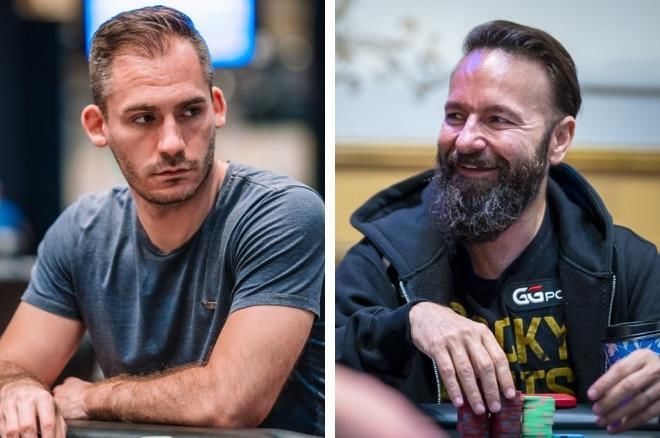 Daniel Negreanu went off on Justin Bonomo in his Monday WSOP vlog, accusing his high-stakes foe of being a "cheater" and said that he's "totally indoctrinated" by his social justice beliefs.
On Friday, after busting his second bullet in Event #50: $250,000 Super High Roller No-Limit Hold'em on a runner-runner bad beat, "DNegs" slammed his phone in frustration on the way out.
ICYMI: Runner runner flush knocked @RealKidPoker out of the #WSOP $250k bracelet event.
Most poker players on social media seemed to understand the frustration considering he's down nearly $1 million for the summer, but Bonomo was highly critical and went so far as to accuse the Poker Hall of Famer of "violence" and that incidents such as this could make others feel unsafe at the table.
Negreanu Fires Back
Negreanu began his Day 27 World Series of Poker vlog by defending himself against Bonomo's tweets, and he didn't hold back.
"Someone sent me a tweet where Whacko Bonomo said that if he tied his shoes in front of someone that he wouldn't do it, because he's totally indoctrinated and a lost cause," Negreanu said. "The guy is a completely lost cause."
Bonomo is openly a feminist and a progressive. Much like anyone with strong political or social beliefs, his tweets are often met with criticism from those who don't align with the same ideology, but some feel the high-stakes pro sometimes goes a bit too far in his social justice campaign.
You can include Liv Boeree among that list.
@JustinBonomo This kind of vapid threat inflation is so infantilising and regressive to the perception of women in… https://t.co/nRrlbgDw2p
"I want to thank Liv for the tweet because when it comes from a woman, it's a lot more powerful," Negreanu continued. "The way that (Bonomo) approaches women is that he treats women like these delicate flowers and need, oh they need Justin Bonomo's help and protection. Why are you minimizing women so much?"
The Gloves Come Off
After Negreanu was finished going after Bonomo's social justice platform, he moved on to the topic of poker cheating. More specifically, Bonomo's past history in which he was banned online years ago for multi-accounting.
"This guy Bonomo, who is Justin Bonomo?" Negreanu continued. "Justin Bonomo was and forever will be a man who cheated at this game we love, poker. Cheated. Flat out cheated. Since then, he's acted as a moral authority on all things good for poker."
In 2006, under screen name "ZeeJustin," Bonomo was banned from PokerStars for multi-accounting. He was reinstated a few years later after he had confessed and apologized for his past transgressions.
At the time "ZeeJustin" was reinstated, Negreanu was the face of PokerStars, but has since moved on to represent GGPoker. Both players rank among the top three on the all-time live tournament cashes list, according to Hendon Mob. They've faced each other in hundreds of tournaments throughout the years, but they've long had a contentious relationship.
In 2019, Bonomo was critical of Negreanu posting a series of popularity-based polls on Twitter.
"I've spent most of my life promoting the game of poker to bring in thousands of people so that this f*****g weasel can sit on his couch and make a living," Negreanu said in his recent WSOP vlog of Bonomo.
"I've spent most of my life promoting the game of poker to bring in thousands of people so that this f*****g weasel can sit on his couch and make a living"
Negreanu admitted in his vlog that he acted "like a child" upon his exit from the Super High Roller last week. But he questioned how Bonomo could possibly equate the incident to a "sexist issue." He wasn't the only one. Many on poker Twitter sided with the GGPoker ambassador and ripped on Bonomo for going overboard for criticizing the behavior.
Will Jaffe had perhaps the best analysis of the Negreanu rage incident in his latest hilarious edition of "Tough Conversations."
Many poker players have been critical over the years of Bonomo for his political and social beliefs. Hear more about Negreanu's thoughts on that and more in his latest vlog below.
2022 World Series of Poker Hub
Bookmark this page! All you need to know about the 2022 WSOP is here.


[ad_2]

Source link