[ad_1]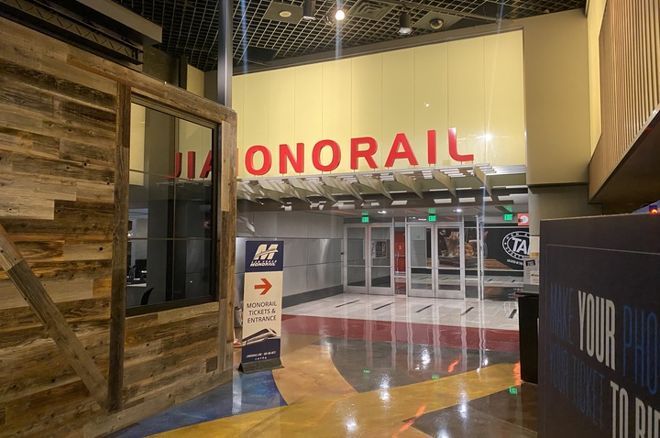 Getting to and from the 2022 World Series of Poker (WSOP) will be a bit more complicated than in year's past given the switch from the Rio to the Strip, and one method of transportation you might wish to consider is the monorail.
The Rio, whether you loved it or hated it, was conveniently located off the Strip but nearby, and the parking lot just outside the WSOP area doors was spacious enough to be replaced by a Major League Baseball stadium (there were even rumors of this happening).
Moving forward, those luxuries are gone, but that doesn't mean attending the WSOP on the busy Las Vegas Strip will be a nuisance. It just means that players, media, and visitors must make some adjustments in their planning, starting with the method in which they travel to and from Bally's and Paris, the new World Series of Poker host site.
What is the Las Vegas Strip Monorail?
Poker players competing in the 2022 WSOP will be staying all around the city in hotels, AirBnB's, and of course their own homes. And not everyone will have a car to drive to Bally's, or want to pay the hefty parking fees (up to $23 per day for those who don't have at least a Caesars Rewards Platinum card).
So, how do you avoid those fees and heavy Las Vegas Strip traffic? One option is the monorail, a quick and convenient solution depending upon where you're staying.
The monorail is located on the east side of the Strip and runs north and south. Due to the route running behind the casinos facing Koval Lane instead of Las Vegas Boulevard (The Strip), the drop-off and pick-up spots can be found in the back of the casinos. Monorail trains arrive approximately every 4 to 8 minutes with station announcements to keep you up to speed on the next arrival time.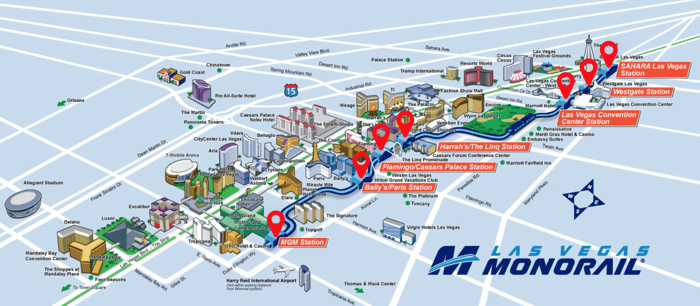 There are seven stops along the route, including one at Bally's. Starting from the south end of the Strip, the first (or last if you're traveling from the north) train stop is at MGM Grand, followed by Bally's & Paris, Flamingo, Harrah's & The Linq, Las Vegas Convention Center, Westgate, and Sahara.
The monorail is a convenient and cost-efficient way to move about the Strip without having to pay Uber/taxi and parking fees or walk a mile (or longer) in the 110-degree summer heat.
For those who are staying on the Strip but not at one of the hotels near Bally's, the monorail just might be your best option in terms of expenses and convenience.
Cost, Hours, and Discount for Locals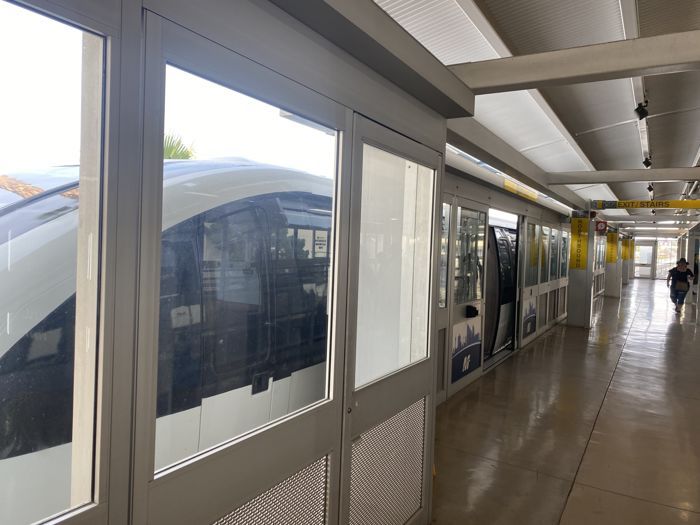 The monorail costs $5 per ride, $13 for 24 hours of unlimited use, $23 for a two-day pass, $36 for a four-day pass, and $56 for a seven-day pass. Children five-and-under ride for free.
There is a significant discount available for locals. If you present a Nevada ID to the cashier, you can purchase up to two rides per day for $1 each. You must show your ID and provide a phone number at the time of purchase. Should you require more than two rides in a single day, you'll have to pay regular fare for the additional rides.
Discounts for locals can only be purchased from a cashier, which can occasionally be a problem if that employee at the stop you're at is on break. For everyone else, you can buy your tickets online at lvmonorail.com or from the kiosks available at each train stop.
Monorail Costs
| Ticket Type | Price |
| --- | --- |
| Single Ride | $USD 5.00 |
| 24 Hour Pass | $USD 13.00 |
| 2-Day Pass | $USD 23.00 |
| 3-Day Pass | $USD 29.00 |
| 4-Day Pass | $USD 36.00 |
| 5-Day Pass | $USD 43.00 |
| 7-Day Pass | $USD 56.00 |
Monorail hours are fairly convenient for tournament poker players except on Mondays — only runs 7 a.m. to midnight. Tuesday to Thursday the hours are 7 a.m. to 2 a.m., and 7 a.m. to 3 a.m. Friday to Sunday.
The train runs frequently so you'll never have a long wait when you're in a hurry. It only takes a minute or two to go from one stop to the next. You could conceivably hop on the monorail on dinner break and return to your hotel room to eat, depending on where you're staying, and make it back in time.
Where to Catch the Monorail
As mentioned, there are seven stops along the route on the east side of Las Vegas Boulevard. That means if you're staying at a hotel on the west side of the Strip (Luxor, for example), you'll have to walk across the street and then through the nearest casino with a monorail stop to hop on board.
This can be a bit of an inconvenience for those staying in certain hotels. Take, for example, Mandalay Bay, which is located at the furthest south end of the Strip on the west side of LVB. In this case, your hike to the closest monorail stop (MGM Grand) is about a half mile, and even a bit further in actual walking distance once you factor in moving through MGM Grand to get to the train.
That said, your walk won't be too long to the monorail from most Strip hotels.
The pick-up and drop-off spot at Bally's is fairly convenient for those competing in the World Series of Poker. It will take approximately five minutes to walk to the train stop from the Bally's convention area and add a few extra minutes if you're playing over in the Paris convention area.
The train stop is located downstairs right by the Bally's pool entrance.
2022 World Series of Poker Hub
Bookmark this page! All you need to know about the 2022 WSOP is here.
Comparing Transportation Options
Taking the monorail back and forth from your hotel to the WSOP is really only convenient for those staying on the Strip at hotels that are a decent hike to Bally's and Paris. Or, for those who don't want to move their parked cars to grab a bite to eat on dinner break outside the WSOP area.
Poker players who have a Platinum or higher Caesars Rewards card and a car in Las Vegas would be better off driving to and parking at Bally's because it's free.
There are two major parking facilities and valet services available to guests:
Paris Las Vegas Parking Garage — Park here, walk the path, take the escalator and you will end up right next to the Paris Conference Center (where the Main WSOP Cage, cash games, and Day 1 tables are located)
Bally's Parking Lot (located directly behind Bally's with access off either Koval Lane or Flamingo) – Park here, walk upstairs into the Bally's Event Center (where all Final Tables, streaming and TV production, Day 2 and restart tables are located)
Valet services will also be available at the main hotel entrances of both properties.
How Much Is It to Park?
| Hours | Cost |
| --- | --- |
| 1st Hour | free |
| 1 – 3 Hours | $15 |
| 3 – 24 Hours | $18 |
| Over 24 hours per day | $18 |
| Hotel Lodger | $18 |
Locals with valid Nevada ID: Rates apply after the first 3 hours, excluding during event pricing
Caesars Rewards Platinum, Diamond, Seven Stars: Free
Rates on Friday and Saturday increase to $23/day for non-lodgers but remain at $18/day for hotel guests.
Reduced price weekly parking passes for extended stays are available for purchase at the WSOP Main Cage inside the Champagne Ballroom in Paris for $100, a 40% discount.
Caesars Rewards Credit Card: Free. Apply for free at the Caesars Rewards Desk inside Caesars Palace or Planet Hollywood.
There are some other transportation options to attend the WSOP for those staying on the Strip. First off, you can always walk and get some exercise, which is also a great way to clear your mind after a rough poker session. Keep in mind, however, it's going to be sunny and scalding hot outside nearly every single day in Las Vegas during the series, and there's very little shade in the desert.
Uber, Lyft, and taxis are available at every hotel, but those are far more expensive and arguably less convenient than the monorail. One other alternative for those staying on the west side of Las Vegas Boulevard is the multiple free trams available.
If you're staying at Mandalay Bay or Luxor, you can avoid any transportation expenses by taking the free tram from Mandalay (or Luxor) to Excalibur and then walking from there to Aria/Park MGM (takes about 10 minutes) to catch another free tram to Bellagio. All you'll have to do from there is to walk through the Bellagio shops and across the walkway to Bally's to reach the WSOP.
Getting to and from the World Series of Poker isn't one-size fits all. But there are numerous options available, so choose the best one for your situation.
[ad_2]

Source link